Frequently Asked Questions
How is Clearlake different to the consultancy platforms?
Web Admin
2023-10-30T18:01:20+00:00
In many ways, we combine the best aspects of independent consultancy with the best aspects of a traditional law firm.
One of the biggest advantages of our model is that we are extremely lean, meaning that our full-equity partners can keep beyond 85% of their fees (much higher than the large consultancy platforms and with cleaner tax treatment) and our consultants can retain 80% of their fees.
Our partners have no need to administer a personal services company and in many ways we think of our partnership model as the next stage in the evolution of independent practice.
Another big difference with the consultancy platforms is that our full equity partners are partners in our business, part and parcel of our organisation, an  contribute to our strategic decision making, helping us to shape and improve the next generation law firm.
A major benefit for all our lawyers is that we are also carefully and deliberately building a City practice with an elite brand – a community of people with exceptional backgrounds who want to play a role in building a new model of City law firm.
Most importantly, we offer our lawyers what we call "fully supported independence"; an initiative to take as much of the risk as possible out of independent practice. We guarantee regular opportunities to pitch to clients, we can provide access to supporting lawyers and paralegals of all levels and areas of expertise, we provide access to cutting edge legal technologies and know-how resources and we can finance invoices, if our partners want us to.
We also encourage our lawyers to build their own teams and to develop a technology offering for their clients, effectively building their own scalable business from within our firm.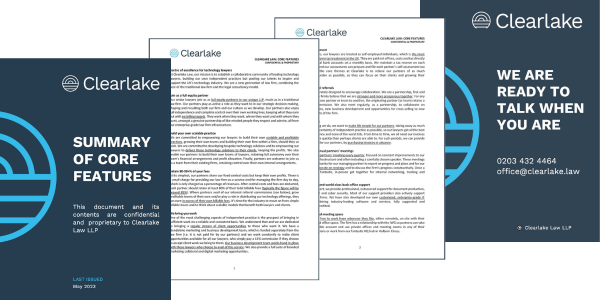 Partnership Core Features
A quick two-page summary of life as a partner at Clearlake Law